Let's talk onboarding! For our third post in the Drinking Our Own Champagne blog series, we'll be talking about the ways UserIQ uses our own platform to enhance the customer onboarding experience. Additionally, we'll walk through how our onboarding program came to be. As you'll see, we didn't always have all the right answers, but, luckily for us, we did have the right platform to help us get there.
Starting at the Beginning
If we're going to tell the full UserIQ onboarding story, we probably need to rewind to around three years ago, when our Appealie-award-winning VP of Customer Success & Growth, Lawton Ursrey, joined the UserIQ team. One of Lawton's first initiatives when he joined UserIQ was to utilize the features within our app to create a personalized and engaging onboarding program for new customers. To enable our customer success team to advise and guide users through onboarding in the best way, we had to get serious about how we leverage our own platform.
Talking the Talk
In the earlier days of UserIQ, we didn't take advantage of our own product nearly as much as we could have. Lawton sought to change all of that. After one too many times of shortening onboarding to "OB," UserIQ's onboarding improvement project became known internally as Kenobi (calling all Star Wars fans!). "We started Kenobi because we weren't using our own tool enough," Lawton said. "Honestly, if you don't have a tool like UserIQ, it's challenging to make improvements to your onboarding process and customer success strategy because you don't have insight into what your users are really doing. But, having a platform like ours really makes it all possible."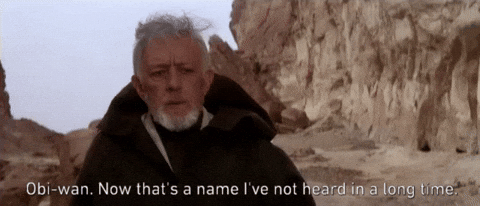 Simplifying the Complex
When kicking off Kenobi, Lawton and team started at the very beginning of the onboarding process—the handoff from sales to customer success. This handoff is critical, since every SaaS company needs to ensure that their product delivers on the promises made during the sales cycle. At UserIQ, our sales and customer success teams utilize our integration with Salesforce to track what we call "intended adoption" reasons. Starting with the discovery call, account executives will flag certain prospects as having specific features they're looking to use within the UserIQ platform. Is in-app NPS survey deployment one of the main reasons they're buying? Or, are they focused on tracking and scoring customer health? Maybe they are looking for a vendor that can help them create guided tours to walk users through key parts of their platform. 
Whatever the customer's intended adoption reasons are, having the ability to track this information automatically—and combine it with desired business outcomes such as account expansion, increased retention, or improved user engagement—gives UserIQ CSMs an in-depth understanding of what to emphasize during onboarding. Lawton continued, "Intended adoption goals are like our 'north star'. For our CSMs, like any customer success team, there is an infinite number of ways to make users successful. Intended adoption helps to anchor our approach." 
Customizing the Approach
While each customer's schedule varies, the typical onboarding timeline for a new UserIQ user is about 30 days. These new customers attend four onboarding sessions that cover the bulk of what they need to get up-and-running with UserIQ:
Intelligence
Engagement
Customer Health
Advanced Settings
CSMs used to structure these four onboarding sessions in the same order for every customer. However, they soon realized that a one-size-fits-all approach wasn't working. Ordering these sessions sequentially was done to make our onboarding scalable and consistent; however, it neglected to take things like intended adoption reasons into account. Every customer is different and has their own unique priorities within the application. By tracking intended adoption within the UserIQ app, CSMs can keep those customer goals top-of-mind and personalize the user onboarding experience accordingly. 
After each onboarding course, the CSM and the users agree on to-dos and next steps. With UserIQ's product usage information—data that's available down to the user level—CSMs can track how onboarding users are navigating within the platform, based on what they just learned. CSMs can also use UserIQ's segmentation to create Journey Paths, which illustrate how customers utilize certain features and where they get held up or stuck. Back in your school days, can you imagine if your teachers were able to track when and how you did your homework?! Yeesh! But, in all seriousness, having that insight into how users get accustomed to UserIQ only helps the CSMs become better coaches—able to tailor their onboarding approach because they know where each user is in their new customer journey.
Keeping Tabs Through Automation
With UserIQ, tracking customer onboarding activity isn't something that CSMs have to do manually. Using our integration with Slack, CSMs can set up event notifications that alert them if onboarding users meet critical milestones…or if they don't. For example, if the customer hasn't graduated from the UserIQ onboarding program within 60 days, the CSM will get an alert via Slack that the user has an onboarding delay. These alerts help inform and prioritize the CSMs' customer outreach, plus they are a way to digitally keep tabs on notable events in the customer's experience. "Manually tracking each customer's current phase of their UserIQ journey would be way too much for any busy CSM to handle. Event notifications go a long way in helping us stay on top of our game and manage the day-to-day," Lawton emphasized. 
Celebrating Users
Part of the Kenobi initiative was not only to seek ways to make UserIQ's onboarding program more efficient, but also to incorporate some fun and motivation. Onboarding to any new SaaS product can be challenging, stressful, and time-consuming, so we've found that giving users a timely 'pat on the back' can be a great complement to any onboarding program. As we touched on briefly in our introductory Drinking Our Own Champagne post, UserIQ's customer success team developed "High Five" campaigns as part of our users' early experience with UserIQ. Users get congratulated when they first install their tracking code or when they've tagged their first in-app features. Additionally, upon completing UserIQ's onboarding program, customers receive a UserIQ PRO badge as a way to congratulate and celebrate their onboarding graduation! I mean, who doesn't love a badge?!
Listening to Feedback
And, we couldn't call UserIQ a customer success platform if we did all this user engagement and then didn't get any customer feedback! As a way to continually improve upon our users' onboarding experience, all newly-graduated customers receive a quick in-app rating survey to score their CSM on how they did. "We definitely take all customer feedback to heart and I use the scores and verbatims from those rating surveys in coaching sessions with the CSMs on my team," Lawton explained. "It's one thing to evaluate how we think we're doing, but it's always incredibly helpful to get the customer perspective on how we can tweak and improve."
Wrapping Up
So, you may be wondering, when did we wrap up this Kenobi project at UserIQ? What's the exciting conclusion to this onboarding improvement journey? Lawton sets the record straight: "Kenobi is actually an ongoing initiative. It's refreshing to know that improving your onboarding experience doesn't have to be a one-and-done kind of thing. Using a platform like UserIQ, you can have an iterative process, making bite-size improvements and building on your success as you go." Well said, Lawton. Well said.
Until next time, champagne drinkers!