As the year comes to a close, the team at UserIQ likes to look back on the past 12 months and everything that our team and our customers have accomplished. What better way to kick back and hash out the ups and downs of 2019 than with a cold, bubbly glass of our own champagne?
In our fifth installment of the Drinking Our Own Champagne series, we'll be talking about segments, and how we use our own platform's segmentation capabilities to analyze user behavior, target audiences for engagements, and improve customer success strategies.
First up though, what is a segment? A segment is a user cohort that has been grouped together based on common demographic, account-level, and in-app usage characteristics. You can create segments based on company size, lifecycle stage, feature utilization, satisfaction ratings, or really any other user data point you can think of.
Great, you say. But, what is the benefit of these user segments? Well, in this day and age, customers expect a level of personalization and tailoring to their user experience. Just as marketing automation platforms assist you with targeted outreach during the sales cycle, UserIQ's segmentation capabilities can help you target a specific group of users with in-app outreach during the post-sales phase. In addition to leveraging segments for your campaign audiences, you can also use segments to compare groups of users to one another to spot key trends and inform your strategy.
Also, there may be some silly rumors out there about UserIQ's segmentation capabilities, but before we dive into the rest of the blog post, let me clear the air: Yes, we do have segmentation! Yes, we've always had segmentation! Giving customers the ability to know their users is in our company's DNA. We couldn't very well call ourselves UserIQ if we lacked the ability to segment and analyze user populations. Heck, even Santa Claus does his own form of segmentation around this time of year with his 'naughty' and 'nice' lists (granted, I'm not sure how sophisticated those algorithms are). But I digress…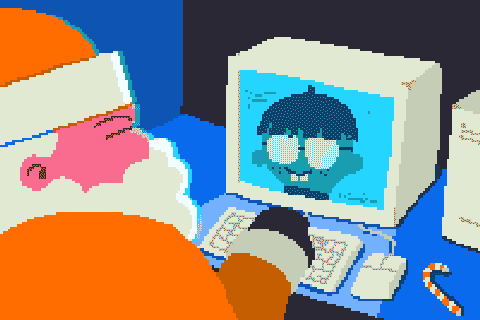 Segments for Campaigns
One of the primary ways we use segmentation at UserIQ is when we deploy in-app engagements to our customers. There are two main segment categories we utilize when creating and releasing in-app campaigns:
External audience segments who

receive

the campaign

Internal segments who

design and test

the campaign
Defining which user group receives a given in-app campaign represents a key way in which we leverage segmentation at UserIQ. Is there a particular group of users who would benefit from an article in our help center? Do we want to send an in-app message to our users, but exclude the people who already subscribe to our marketing emails? Are there users who haven't yet created an announcement in UserIQ who would benefit from a guided tour detailing the steps to take? Which customers should we tell about the new feature we just launched? The answers to these questions (and countless others) can be provided through targeted in-app campaigns, which are all made possible with segmentation. "Without the ability to filter and cherry-pick our campaign audiences through segments, it would be impossible for us to personalize and guide our customers' experience within UserIQ," said Lawton Ursrey, our VP of Customer Success & Growth and the fearless leader of our customer success (CS) team.
In addition to using segments to define a campaign audience, the UserIQ team also makes sure to thoroughly test each campaign internally using a testing segment. Taking the extra time to ensure that each announcement or guided tour looks great and works flawlessly on all screen types and operating systems is just something we have to be meticulous about, as a customer success platform provider. When we deploy in-app campaigns, we're not only trying to communicate and engage with our user base, we're also putting our platform and its capabilities on display—which leaves little margin for error.
Segments for Newbies
As with any company, it's critically important for the UserIQ team to help our customers get started off on the right foot. So, we do closely track how our newer users are doing with a variety of different segments. For example, tracking the usage and login activity of people in a free UserIQ demo helps our sales team to increase trial conversions by ensuring that users are having a great experience. Are trial users taking advantage of the features they were most excited to use when they signed up? Are trial users optimizing their use of the platform—especially since they'll have a limited time where the application is free? Segments can be especially helpful with trial populations, because they can be used to power UserIQ's event notifications, a feature that triggers automated alerts to the UserIQ team whenever certain customer milestones are reached.
Along those same lines, the UserIQ CS team has several onboarding-related event notifications that trigger alerts (through email or Slack) whenever an account or a user enters a particular segment. When users have early successes within the product—such as installing their tracking code, tagging their first five features, or creating their first in-app campaign—they become members of that particular segment, which in turn fires off a congratulatory 'high five' campaign to commend them for their progress within the app. Similarly, when customers finish onboarding, they are piped into a segment for recent onboarding graduates, where they receive celebratory email messages and in-app campaigns.
On the contrary, when a user enters the 'onboarding delay' segment—meaning, the user has been in the onboarding phase for longer than the typical max of 60 days—customer success managers (CSMs) will receive an event notification that alerts them to the delay. This allows the account owner to reach out to the customer directly and triage, as needed. These event notifications (and many others that we've set up in our platform) are informed and powered by UserIQ's segments. These alerts help keep our CSMs in the loop on key customer milestones that would be impossible to track manually.
Segments for Usage Trends
Monitoring app usage and activity is one of our CS team's primary to-dos, since it's the first step in improving adoption of the UserIQ platform. The team reviews usage segments that track customers' various levels of account activity (low, medium, and high) during 15-day, 30-day and 60-day periods. "For example, if a user enters into a low activity segment, we'd want to know right away so that we can have a member of our team reach out to the customer directly," said Bret Venuso, a customer success product specialist at UserIQ.
While it's helpful for our CS team to get alerts to segment changes like this in-the-moment, another way to leverage the UserIQ segmentation capabilities is to look holistically at segment trends over time. Most of our customer segments are split into two categories—segments where we want membership to increase (like NPS promoters or active accounts) and segments where we want membership to decrease (like low activity segments or accounts with low customer health scores). Lawton commented, "When we compare different segments, we pay extra attention to their similarities and differences. Teasing out these segment nuances directly informs our team's next steps as they plan their customer outreach. As any CSM knows, even one well-timed, well-informed check-in with a customer could make a huge difference in that relationship."
In taking a look at some of these segment trends, the UserIQ team always wants to see who's up, who's down, and how we can use data to better understand what's going on with our users. Bret commented on a specific example of this type of segment analysis: "Recently, we analyzed our in-app product usage data to determine how the customer's lifecycle phase played a role in overall satisfaction. After evaluating customer health scoring trends among three lifecycle segments—customers who'd been with UserIQ for 0-6 months, 6-12 months, and 12+ months—we found that there was room for improvement for customers in that 6-12 month phase of their UserIQ experience." And utilizing segments to uncover that type of information is only half the battle. Lawton continued, "Learning that trend among users in that 6-12 month phase was really important because it allowed the team to use the data in our platform to take action on behalf of our customers—refining our outreach strategy, designing new campaigns, and rethinking our customer renewals. It's a continuous learning process, and it's critically helpful to have the data you need right there in UserIQ."
That's a Wrap
Segmentation is such a foundational component to the UserIQ platform and there are so many ways it's used here. Truth be told, we've created and used hundreds of segments in our platform, and that number continues to grow and evolve as we uncover new insights. 
What types of segments are you interested in creating? What else do you want to learn about your users in order to improve their experience with your product?
Lots of important questions about segments to ponder over this holiday season… and you know what goes well with thinking about user segmentation? Some champagne! Pinkies out and happy holidays!